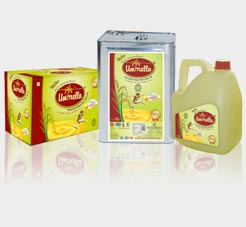 For queries

or


more information

Call Customer Care:




+91 93924 72526 or


email to: umbrella@saprilim.com


(for Umbrella products)


goldcoin@saprilim.com


(for Gold Coin products)




Available at








Products
Refined Rice Bran Oil



When it comes to cooking food for your family, you choose the best way of making it, and the best oil to cook with. Refined Rice Bran oil is considered as the world's healthiest oil. The absence of Trans Fat and the presence of a wealthy amount of antioxidants, vitamin E complex, and other micronutrients make refined rice bran oil the best for human consumption. Another advantage that refined rice bran oil carries with it is that, it is hypoallergenic – the perfect choice for those who seem allergic to other cooking oils. Strongly matching the American Heart Association (AHA) recommendations, it is the most balanced oil that can serve multiple purposes.





Wherevercooking oil is used, Rice Bran Oil is an ideal replacement for it. From deep frying, to topping on salads – in a healthy way –Rice Bran Oil adds the perfect flavor to it, along with making it light and easy to stomach. Due to its low viscosity, the absorption of oil drops, resulting in an overall lesser amount of calories. This makes it especially useful for those who suffer from cholesterol problems, and cardiovascular diseases.


Umbrella Refined Rice Bran Oil



Having the knowledge of betterment of health, yet, the vast choices provided by the market make it difficult for people to choose the most desirable option. But here's the experience speaking – Umbrella Refined Rice Bran Oil is being presented to you, assuring its guaranteed quality, as the best caretaker of yours and your family's health. It is widely used, in a number of countries like, China, India, Korea, Japan, and Indonesia. Umbrella Refined Rice Bran Oil has been tested for the presence of all essential nutrients, and is 100% pure oil.The Tocotrienol in this oil contains a 1200-2000 ppm of ORYZANOL. It is amazingly helpful for lowering cholesterol and cardiovascular diseases. It has also earned the fame due to its ability to enhance the flavor of the food cooked in it.


Comparison of Smoke Point and Balance of Fats in Some Commonly Used Oils
Oil Type
Smoke Point
Mono - Unsaturated Fat
Poly - Unsaturated Fat
Saturated Fat
Rice Bran Oil
490º
45%
37%
18%
Olive
360º
77%
9%
14%
Canola
450º
58%
36%
6%
Peanut
460º
48%
34%
18%
Soybean
440º
24%
60%
16%
Grape seed
485º
14%
77%
9%
Comparison of natural antioxidants in edible oils
Oil Type
Vitamin E Tocopherol (ppm*)
Vitamin E Tocotrienol (ppm*)
Oryzanol
Total Natural Antioxidants (ppm*)
Rice Bran Oil

81

336

2,000
2,417

Olive

51

0

0
51

Canola

650

0

0
650

Sunflower Oil

487

0

0
487

Soybean Oil

1,000

0

0
1,000
Palm Oil
256
149
0
405
*ppm. stands for parts per million
Nutritional Facts
(Approx. Composition per 100gm)
Energy Value
899.7 Kcal
Protein

0g
Fat
100g
Saturated Fat

23g
Mono unsaturated Fatty Acid

42g
Poly unsaturated Fatty Acid
35g
Trans Fatty Acid
0g
Carbohydrates
0g
Cholesterol
0mg
Calcium
0.7mg