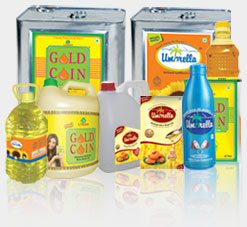 For queries

or


more information

Call Customer Care:




+91 93924 72526 or


email to: umbrella@saprilim.com


(for Umbrella products)


goldcoin@saprilim.com


(for Gold Coin products)




Available at








Health Tips



Good and sound health is essential for a healthy and enjoyable life. A fit and healthy body makes for an ideal mind and ideal living day in and day out.

So the question is how do we ensure it? Sanjay Veg Oil puts across a few tips for a healthy body and a positive mind.



Nutrition and Health Diet


A nutritive diet of adequate vitamins and minerals, lays the foundation for a healthy and disease-free life. Human body is akin to a machine that needs frequent repair and cleansing to get rid of unwanted toxins and other wastes that might have accumulated during its span.

A rich diet filled with nutrients is ideal for a smooth and normal functioning of one's mental, physical, metabolic and hormonal well being.



A healthy nutritious diet should comprise of



Plenty of Fruits especially Yellow Bananas, Red Apples, Oranges and Purple Plums.
Plenty of Vegetables especially Green Lettuce, Oranges, Carrots, Red Tomatoes, Yellow Corn and Brown Beans.
Sufficient good quality unsaturated Fats.
Whole Wheat.
Fruit Juices & Low Sugar Drinks.
Nuts
Avoid
Saturated / Trans fats.
Red meats.
Refined Foods.
Smoking and Alcohol.
Other Tips
Drink filtered water.
Consume food based multivitamins daily.
Consume at least five servings of fruits and vegetables a day.
Increase intake of uncooked Fruits and Vegetables.
Replace butter when cooking with vegetable oil.
Reduce intake of Milk, Coffee, Tea and other Dairy products as much as possible.
Reduce intake of Potatoes.
Health Benefits
Decreases chances of a heart attack or stroke.
Protection shield against Cancers.
Reduction of Obesity, Blood Pressure, Diabetes



Exercise and Fitness


Physically fit does not mean just a well toned body or rippling muscles, but a lot something more, it means a dramatic improvement in your lifestyle. For a healthy lifestyle, you need to ensure sound cardiovascular endurance, muscular strength, muscular endurance, and flexibility. Each of these is possible only with regular exercise.



Regular Exercise must be two or more of the following



25-30 minutes of brisk walks in the mornings and evenings or half an hour of Morning Jog.
Simple fitness exercises like Stretching exercises, Push Ups, etc.
Regular meditation or Yoga.
Half an hour round of Cycling or Swimming or Dancing in the mornings or late evenings.
Regular Exercise
Improves your Cardiovascular Fitness & Muscular Endurance
Prevents or lessens the onset of Blood Pressure, Diabetes, Arthritis, and Osteoporosis.
Protects from certain cancers like Colon Cancer and Breast Cancer.
Eliminates or lessens symptoms of Depression and Anxiety.
Increases your Energy Levels.
Maintains healthy weight.
Builds up and maintains healthy muscles, bones, and joints.
Improves psychological well-being.
General Tips
Have lots of fun and do things that you enjoy.
Love all and laugh a lot for they act as stress busters.
Storage Tips
They do not require refrigeration but can turn cloudy when cold.
If stored properly, away from sunlight, they can last for a good twelve months.
Usage Tips
It can be used as recipes or consumed directly.
Avoid using it as a dressing.
Use extra virgin or extra light Vegetable oils for cooking.
It can be used for marinades and sautéing.
It has a high smoke point and can take high heat.